The following unpublished text by Linda Lai was an observer's soliloquy on a 12-part interactive sight-and-sound discourse she created with Theresa Junko Mikuriya at the HK Art Biennial 2003.11-2004.01. It was Lai's attempt to make sense of their automatic creation; the text itself is not an annotation, but an extension in the form of automatic descriptions, an assertion of narrativity. 這段不假思索性質的創作性文字,原因著黎肖嫻和陳超敏為2003年香港藝術雙年展的參展作品而產生。她們的聲影互動作品完成後,黎像一個陌生訪者般凝視著眼前的影音流,想像碎斷的畫面背後的世界。這裡「推」的文字不是「推」互動作品的闡釋,而是延伸創作,推開無限可能的下一個小步。文字作品曾在現場限量派發,在2004年一月那一屆的雙年展完畢後一直沒有發表過。
***中文版在英語版後面 Chinese version after English version 
***Feature image: by Linda Lai | images for English version by Theresa Junko Mikuriya | images for Chinese version by Linda Lai
PUSH: the Quest for a Voice, in Search of a Body.
A blue door stands in front of the visitor.  "PUSH," it says on the door in big characters.  Turbulences stream in from the side at the lower part of the blue door, quietly.  It is recognizable language: words, phrases and fragments of sentences, comprehensible and yet elliptical, as if someone without a voice or body is blowing her thoughts into the air to let them flow.  Yes, someone is making an effort to push open the door, but hesitating, struggling with something… and mumbling seems to be the final resort…
Feel and touch the big blue door.  Every now and then, fragments of sound and speech could be heard, apparently from behind the door.  Music without melody, speech without sense…
**********
Door opens.  No sign of a human world.  One enters a white world of horizontally running texts busily crossing the empty space without running into each other, just like a huge flyover highway complex in the form of multiple parallel tracks of busy traffic.
It is a world of speechless articulations: there are utterances in words, but only unrecognizable, broken sounds…  It is the mind world of someone who needs to express but has no voice.
Any attempt to interrupt the running traffic may provoke squeaks in the form of more pop-up texts like someone yelling out in pain, helplessly, and calling for attention.
***********
The busy, restless mindscape of inexhaustible thoughts and desires opens to a sunny graveyard in Paris bathed in warm sunlight.
A feminine face is staring at the visitor, almost like smelling the camera lens.  It is no doubt an inviting face, her stare soliciting one's queries, not without a touch of sarcasm or mockery.
The graveyard looks strangely ordinary, even a bit monotonous.  It is just a graveyard in the broad daylight, or in the flip of a second it blinks the backyard of a sleeping house.  The place seems to be hiding all kinds of secrets.  One sees nothing, but murmurs (of some female voices) rush in and off like breezes, roaring up this moment and subsiding the next,
Restless murmurs, somewhat suggesting a disorder in language: a mixture of Cantonese, Mandarin, French, English…
Were one no longer capable of resisting the face or its gaze, caress it – it's just a plastic mask of enchanting appearance that easily dissolves into a featureless mass upon an eager rub.
**********
The void in the feminine face opens to the white wall of a house.
Is it a wall or a photograph of it?  Lines and shapes are slowly emerging, like an exposed photograph in a developing fluid.  The actual landscape gradually normalizes from a blaring glaze to normal vision: it is a house in the evening.  A woman, called Frances, seems to have rushed out from the house, now running bare-foot on the lawn.
Call her, "Frances, Frances."  Fragments of her personal details emerge on the lower screen, depending on the voice's volume, like movie subtitles striving to narrow down one's sense-making.
The house is apparently a fiendish dwelling with memories haunting in hisses, whispers and sighs.  Murmurs, speech, and poetic recitative…all blend into a swirling wind.
**********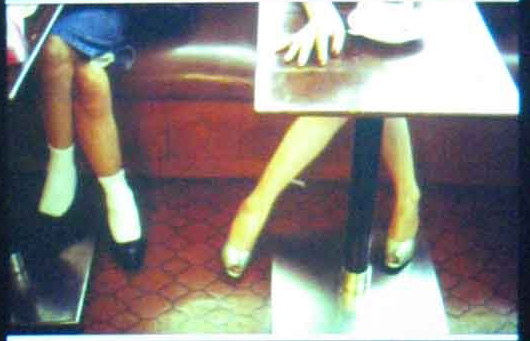 One hidden piece of memory hangs in the form of a voiceless image…
Two pairs of legs hang from above.  They belong to two young women whose face and body we can't see.
Are these legs real?  Caress and rub.  The legs dissolve, and so does the background setting.  Another image behind it reveals itself: a window with barred grid frames opens to a dazzling "outside."
**********
The grid frame disappears.  There is no open space with sunlight, but an iron surface with phone numbers scrapped on it like someone was leaving a message in a hurry, or desperately.
It's up to the curious visitor to discover which numbers have hidden messages and which ones sheer pretense.  Or if chance allows, some numbers are there for the visitor to leave his/her messages.
The woman is still missing, her voice suppressed, or her speech fragmentary.
One of the numbers is a secret key to a special switch where one is free to say what you want…
**********
An empty room.  Four modes of impermanence.  Light sears through the windows of the glasshouse.  History lurks behind these walls, seeping through the tiled floors.  Yet you find yourself in a vacuum where time is insignificant, where the past breathes at the moments.
**********
A woman is walking alone in the deep, blue night.  Prison bars are building across the screen up-down and left-right, closing the woman behind the bars from the on-looker.
The material of imprisonment is one no doubt: the plot lines of a "normal" woman's life, like those one reads in popular fiction, or perpetuated in the long histories of melodrama east or west, or the everyday culture of the contemporary times.
The prison bars are themselves running texts from novels of pathetic love.  Save her.  Demolish the bars.  Free her from her entrapment.
**********
Setting free the love-battered woman, the feminine of the feminine, a different woman is seen sitting by a bath tub, performing her gender, subverting the taboos of a well-bred female of propriety, undaunted.
Who she is doesn't matter, for the face is nothing more than a flattering icon.
The room smells rosemary and thyme, pregnant with fecundity and sensuous aspirations.  The air is thick with molecules of saturated voluptuous earthiness: breasts, body parts, volumes and weights of an expanding flesh.  Upon a casual stir, the thick air gathers its momentum to spill out winds, rains, fountain jets and whirlpools.  Every now and then, the storm maddens with vague chants and agonized mutters.
Who says consciousness requires a physical body to exist?  Here, thoughts and yearnings live without a body.  Beyond the human subject and substance… : just take a deep breath and smell my thoughts.
She remains anonymous, but is ready any time to push the shuttle button for a playful self-portrait when someone smells enough of the room.
**********
Shutter clicks.  The on-looker expects the spectacle to begin.
Shutter clicks continue, taken up by a simple melody on a percussion instrument of single strike at a time.  The speechless woman of many breasts opens to another face with big blue eyes.
Talk to her, write to her.  Free her from the burden of doubt and queries.  Free her from unconvinced surficial plasticity.  She's ready to show anyone a few episodes of real life through her eyes.
**********
The doll-like face shatters and goes like vapour.  The melody continues a few more seconds after the face is gone and finally fades.
A still red lantern blinks like it is signaling a muffled tune of briskly rhythm.  The red hue keeps changing in intensity, brighter now and dimmer then…
Vicissitudes of weddings and marriages are captured, like museum pieces dug out from an archaeological excavation.
More collectibles are wanted.  Visitors, please leave your wedding stories.
**********
Many things may happen to a woman.  And most map the wedding day as a peak moment or a dividing line.
But this story ends with a self-assured woman, fathoming space and finding room for her body.  By moving furniture and books around within a confined room in the present continuous, she multiplies space for herself.
Space within space, world within world…  I act, I narrate, therefore I exist.  I demarcate, I divide, thus space.
Is knowing fathomable?  But books are countable.  Pile and push.
**********
PUSH.  You're back to the starting point of the PUSH journey.  Would you like another PUSH?
(narrative outline by Linda Lai, May 2003)
「推」∶探索嗓音、搜尋身體
訪客面前站了一扇藍色的門子。門上寫了一個大字 — 「推」。門的下方靜靜地橫湧著一道溪流,溪流內都是能夠辨別的語言∶字、詞、句子的碎片,好像沒有嗓音或身體的人向空氣吹送著她的想法。思念隨風飄動,可理解卻又言猶未盡、言外有音。對,有人使勁推開那道門,但又帶點猶豫;幾番掙紮,似乎含糊咕嚕是最後的出路…
感覺、觸摸一下那扇藍色的大門。門後間歇傳來聲音和談話的片段。沒有旋律的音樂、沒有意義的話語…
**********
門開了。沒有人類痕跡的世界。一片白茫,字塊忙碌地橫向滾動,跨過虛無的空間,卻又不會相互碰撞,活像多條平行的車軌輸送著繁雜的交通,構成龐大的天橋公路系統一樣。
這是一個無法言喻的世界∶文字發出了,但只有無法辨認的、破碎的音調……這是個沒有嗓子但需要表達的人的內心世界。
任何人隨意幹擾那奔走的文字流都會觸發更多的字塊的躍跳,就像車刹掣時的尖號,又如有人痛楚時無助地呼喊,吸引旁人的注意力。
**********
毫不怠倦的思潮和欲望組成繁忙無休的內心世界,淡去後漸露出一塊淋浴在巴黎和暖日光裏明朗的墓地。
一塊女性臉孔像嗅著鏡頭那樣哄過來,凝望著訪客。這無疑是張誘人的臉龐;她的凝視誘請別人發問,不無諷刺或嘲弄的味道。
那墓地看來極平凡,甚至有點單調。不過是片敞闊日光下的墓地,一舜半秒間或許翻閃成一所沉睡房子的後園。這地方好像收藏了各式各樣的秘密。甚麼也看不見,但女子的絮語好像微風般上下衝奔、飛繞,一會兒狂呼嘯叫,一忽兒又沉靜下去。
不眠不休的私語暗示著語言上的失調,混雜了廣東話、國語、法語、英語……
要是抗拒不了她的臉孔或注視,就輕撫一下 – 那不過是張讓人迷惑的粉刷面具,經不起焦急的搓揉,輕易溶化成一團不可名狀的物體。
**********
那女子面上的空洞露出一道房子的白牆。究竟是牆子,還是牆的照片?好像浸泡在沖印劑裏的相片一樣,線條跟形狀慢慢浮現出來。實際的景色漸漸抹去混雜的釉色,回復正常的視野∶是所黃昏裏的房子。名叫法蘭斯的女子剛從房子衝出來,在草坪上赤足奔跑。
「法蘭斯、法蘭斯。」喊叫她的名字吧。跟隨這呼叫聲的音量,她的個人資料零碎地浮現在螢幕的下半部,好像電影字幕一樣,奮力把多義的言辭收窄為顯易的理解。
這房子顯然是所凶宅,寄居著嘶叫、低鳴和怨歎的記憶。絮言、話語、詩誦 ……全都攙雜、捲混成無端刮起的旋風。
**********
一片隱然的記憶卻如一塊無聲的影像懸浮著……
兩對腳從畫框的上緣垂吊著。這是屬於兩個我們看不見臉孔跟身體的女人的雙腿。
這兩雙腳是真實的嗎?輕撫搓一下,四條腿跟背景一同溶掉。背景後揭現出另一影像∶鑲上方形格子欄柵的窗子透出眩目的「外界」。
**********

窗框消失了。可沒有注滿陽光的空間。眼前的,是一塊刮上了電話號碼的鐵皮,好像曾經有人匆匆忙忙的留下口信,還是不顧一切的、垂死的最後通牒?
就留待好奇的訪客去發掘究竟哪些號碼藏有隱訊、哪些不過在虛掩矯飾罷。若機玄巧合的話,你會找到當中某些號碼,它的主人正等待著訪客留下他或她的訊息。
依然沒有那女子的蹤影;她的嗓音被壓抑,她的語詞一樣碎斷。
其中一個號碼是柄開啟秘密機關的鑰匙,讓人自由自在的,想說甚麼,就說甚麼。
**********
在這裏,無論你感覺到甚麼,想到甚麼,就說出來吧。留下字塊,輸出你的思潮,像噴泉一樣湧出,洗滌積聚著的塵埃、理清朦朧暗啞的話語。
抓緊一兩個飄揚的文字,進到更深邃的現實。
**********
深沉的藍夜,她獨自行走。螢幕上下左右築起監獄的圍欄,隔開訪客,把她關在欄柵後。
柵閘的物料顯而易見∶一個「正常」女子的數條劇情線,就像流行小說內、東西方通俗劇史上、甚至是現代日常生活裏所獨到的一樣。
監獄的欄框由悲情小說的流動字塊組湊而成。快拆掉圍欄、拯救她逃離羅網。
**********
解放這受盡情虐的女子,最女性化的女性。一個完全不同的女子坐在浴盆旁邊,演著顛覆性別身份的遊戲,無所畏忌,解拆著一個良好教養的女孩的禁忌。她是誰也沒關係;她的臉龐也不過是個諂媚的符號吧。
房間內溢滿迷迭香和百里香的馥郁,滲著暴發的想像和感官的渴望。空氣也濃重起來,灌滿了妖豔與情欲的份子∶胸脯、身體部分、橫流膨脹的肉體、咻咻的肉欲。隨意撥動,激起濕漉空氣中的動力,濺瀉出風、雨、噴泉和漩渦。間間歇歇的,暴風雨刺畫出虛無的重複字句和喝怒滾旋的呢喃聲。
誰說意識必須依附在軀體上生存?在這裏,思想跟愛念無須寄存在實體上,一樣栩栩如生。這個世界,於人和物之間還有別類∶深呼吸一下,嗅嗅浮游無主的思緒。
她繼續隱匿其名,但已經準備妥當∶有誰嗅夠了房間內的味道,她便隨時按下快門,拍出玩味十足的自我描繪。
**********
快門卡一聲擦動。訪客期待又一撩目的景觀的開始。
快門咔嚓咔嚓的暴走,接著是敲擊樂一下一下隨機奏出的單音。女子仍舊無言,數不盡的胸脯擠出另一張大藍眼睛的臉孔。
跟她說話、給她寫字。救她擺脫憂慮與疑惑的包袱。救她放下那張已失去說服力的粉撲臉龐的外殼。她已經準備好,透過自己的眼睛,對任何人展示幾段現實生活的插曲。
**********
娃娃般的臉孔粉碎、蒸發四散。那些散音在臉孔消失後殘留了幾秒,徐徐淡褪。
靜止的紅燈籠閃爍不停,仿佛要指揮咕嚕的音調,跟上其清爽明快的節奏。紅色的強度不斷變化,時而明亮,時而昏暗……
考古遺跡中發掘出來的四件博物館展覽品一般,四集不同的婚禮,依次完成、記錄、保存起來,並展在人前,廣供閱讀。
徵求更多收藏品。來參觀的,請留下你的婚禮故事。
**********
可發生在一個女子身上的事太多了。大多女子卻標示婚禮的日子作為高潮,或是人生的分水嶺。
但這故事以另一種女子作結∶一個在實存的空間裏量度自己的主體、設置身軀、佈局自我的女子。她在一所眼見大小的房間內連綿不斷的把傢俱搬動、遷移,給自己開拓出倍數的空間。
**********
「推」 — 你又回到這推門旅程的起點了。你會再試一遍嗎?
(黎肖嫻 ・ 2003 年 5 月)
Related Reading: Linda Lai's PUSH series […] | Linda Lai's creative writing […]